August 10, 2016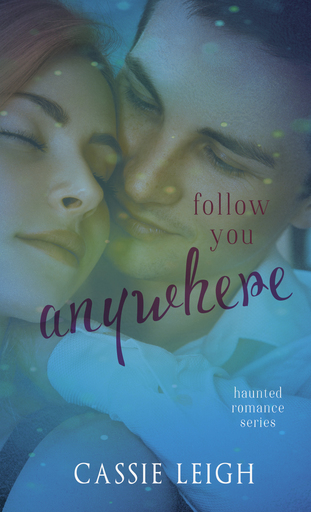 Looking in the past, you can find your future.
Finally ready to start over on her own terms, Bettina Brandt is letting go of the horrors of her past marriage and moving on. Used to the confines of her ex-husband's rules and regulations, she's excited to go on a ghost hunt of an old Victorian boarding house with her friends. But when strange events begin to emerge, Bettina is convinced something followed her home.
Seth Hynek accepts the solitude of his afterlife. Brooding and reliving the hellish memories of World War II are more tolerable when he's alone. But something changes when he sets out to scare off the group of women who've invaded his home. One of the women sparks something in him—something he can't identify. Keen to know more about Bettina, he follows her home, realizing he can communicate with her through her dreams. But when Bettina's ex-husband finds her and threatens her, Seth fears he can't protect her. Once again, Seth is haunted by the idea that he can't save the one woman who needs him the most. With their pasts colliding with the present, will their ghostly romance end before they can find a way to create a future together?
Introduction
Follow You Anywhere is the sequel of Cassie Leigh's first novella with us, Until Death Do Us Part.
It is a novella just under 40k words set in the contemporary world. It is written in limited first person with a multiple protagonists. There is sex, lightly described.
The book will be published on August 30, 2016 but is available for pre-ordering.
Samples
The first chapter is available on the Broken Typewriter Press website.
Bettina stared out the car window, up at the imposing Victorian mansion with the moon rising behind it. Someone had made the unfortunate mistake of painting it black. It looked like something out a children's Halloween storybook. Shutters hung at haphazard angles, waiting for a strong wind to catch hold and send them flying. The idea of walking across the compromised structure of the slumped porch made her blood run cold, but her friends Amanda and Charity were testing her new resolve not to live in fear, and she would see it through.

As the new girl in Glennbluffs, a small tourist town on the Mississippi side of Iowa, she was happy to have made friends so easily and she didn't want to let them down. She hoped this was going to be the first of many new experiences for her. In California, fun on a Friday night never included a ghost hunt unless you were watching it on TV.

Charity knocked on the glass. "Bettina, get your skinny ass out of the car."

Despite the fact they were all on a collision course with their thirties, Bettina's friend looked like a pinup, roller-derby chick with a thing for Rainbow Brite. For today's ensemble, she had dyed her hair electric blue and tied it up with a red bandana that matched her cherry bomb lipstick, à la Rosie the Riveter. Charity dressed as though unconcerned with the nip in the air that came with autumn. The sleeves of her chambray button-down were rolled up and she had belted her denim shorts with a skinny red belt. She finished the look with high-heeled tennis shoes that looked like crayons threw up.

As ordered, Bettina got out of the car. Her colorful friend pranced over to the van parked ahead of her own silver Prius.

Charity reminded Bettina of home, which is probably why Bettina had gravitated to her for friendship and the reason Bettina put up with her crass way of ordering her around. Outsiders in a small town stuck together.
Appeal
After the lovely prose of the first novella, how could we resist when Cassie wrote the sequel? Well, we couldn't. This is a lovely, sweet paranormal romance between a young woman with a past and a ghost. It is just the right length for an evening read.
Not to mention the cover is gorgeous.
Availability
This book is going to be released on August 30, 2016. Until then, you can pre-order it on many different sites including many digital and print locations. You can also pre-order directly from our store with a 10% discount with the coupon code ghost.hunters.listen.